The high schools aren't the only athletics boasting achievements this winter. Southborough Youth Basketball reached out with news.
Three SYB Travel teams won their Division Championships for the regular season.* That's two teams of 7th graders and one 4th grade team.
Below are photos next to team details (click to enlarge):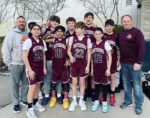 7B MAROON Travel
Season Record: 12-3
Players: Rishab Yarala, Max Tolander, Jake O'Connell, Alex Deschaine, Liam Murphy, Max Khoury, Tanay Samuel, Graham Chiota, and AJ Phaneuf
Coaches: Tom Khoury / Mike Murphy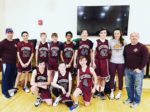 7B WHITE Travel
Season Record: 11-1
Players: Ryan Desouza, Colin Murphy, Alex Moorehead, Shreyas Potharaju, Trevor Murray, Luke McAuliffe, Taylor Murray, Lewis Fitt, and Matthew Fialkow
Coaches: Sean Murray / Lauren Freer / Dave Fialkow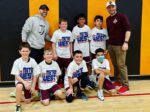 4B MAROON Travel
Season Record: 9-2
Players: Teagan Roy, Rayan Kongala, Toby Awadalla, Zac Diesenhaus, Cooper Soro, Teddy Benoit, and Mohammed Hatami
Coaches: Dan Benoit / Brian Diesenhaus
*Apparently, all have fallen out of the post-season tourneys.