This Saturday, a special "Double Header" is taking place on the ice at the DCU Center. Before the Railers hit the ice, Algonquin Boys Hockey will face off against ARHS Alumni.
The event is in memory of the late Brian K. Arsenault. Arsenault, a former ARHS Hockey player, was KIA in Afghanistan in 2014.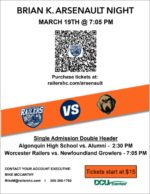 The ARHS v ARHS game will take place at 2:30 pm. (Odds are that one of the teams will be wearing the special camouflage uniforms designed to honor Arsenault.)
Tickets (starting at $15), also cover that evening's Worcester Railers game. They'll play the Newfoundland Growlers at 7:30 pm.
You can find details on purchasing tickets here. The website promotes that they make it easy to sit with friends:
When you purchase you will receive a unique link to share with friends. Everyone who buys from your link will sit with you at the game. Pay separately but sit together!