Two years ago, the Interboro Community Band was forced to halt its rehearsals. This spring they are back. And I just learned that the group is putting on a concert this weekend.
The performance is Sunday, March 27th at 2:00 pm. They will be playing "Contemporary Selections from the Band's Repertoire".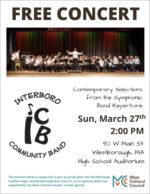 Traditionally, ICB has performed out of NSBORO schools. This year, Algonquin had restrictions on use of outdoor organizations. So, the concert will take place at Westborough High School (90 W Main St).
The community is invited and, as always, admission is free.
The group was first formed in 1992 by musicians from the surrounding boroughs under the direction of the late ARHS music teacher Dennis Wrenn.
It was continued as a program of the Southborough Recreation Department. But, more recently, the ICB became totally self-funded. In 2019, the symphonic band promoted that it had grown to nearly 50 talented amateur musicians.
In their most recent communication, they assured that despite the venue change, there are still active members from Southborough.
The band is hoping to recruit some new members — especially bassoonists and clarinetists. For those who might be interested in joining them to play in future concerts, their website describes:
The Band plays a wide variety of Concert Band literature ranging from traditional classic Concert Band Music to more contemporary and Popular Band arrangements. Membership is open to anyone interested in performing with the ensemble.
Rehearsals have been taking place on Monday evenings at 7:30 pm. Check out their schedule and other details here.