For families looking for a more flexible schedule this summer than weekly camps, Southborough Extended Day has a "Summer Fun Club" that is worth checking out.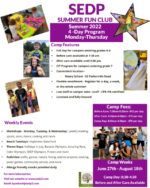 You can sign up kids for a four-day week (8:30 am – 4:30 pm, Mon-Thurs). But you can also pick and choose specific days based on your schedule.
Plus, you can pay for early drop off (starting at 7:30 am) and/or late pick up (ending at 6:00 pm).
Registration is offered for kids entering Kindergarten – 6th grade. The program runs from June 27th to August 18th.
As with many camps, they had to eliminate big field trips last year. But this summer, they are adding in weekly trips to a local lake. That's in addition to the normal on-site activities (at Neary School) each week.
This year's fun includes:
Trips to Hopkinton State Park's beach every Tuesday
Theme Days every Thursday
Special Workshops
Variety of Activities
Based on past descriptions – Campers can ride bikes, splash in the pools/sprinklers, play sports, or use the playground on Neary's grounds. Inside the cafeteria campers can choose between the art center, game area, gym, or their relaxation zone.
The most popular week is usually their last one, featuring the Color War and Banana Olympics.
The cost starts at $75 per day. If you sign up siblings for comparable days, take off 5% for a family discount. Payment in full is due by June 1st.
For a registration form, click here.
Additional days may be purchased during the summer, if space allows, with 24 hours advanced notice.