In spring of 2020, the Southborough Library launched a Seed Exchange. While the original plan was for patrons to pick seeds out of an old card catalogue, the pandemic forced staff to shift to online orders and mail delivery.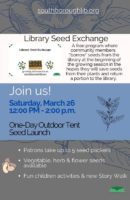 This year, they're happy to bring patrons back indoors. But first, they're starting with a special outdoor event.
This Saturday, March 26th, the Library will hold an Outdoor Tent Seed Launch. Patrons will each be able to sign out up to 5 seed packets (for vegetables, herbs, and/or flowers).
Staff will be available to answer questions. Plus, there will be information packets, including references to resources/information on the Library's website.
Families are encouraged to bring children for fun activities and to check out the new story in the StoryWalk on the Library's lawn.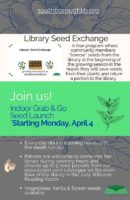 Starting April 4th, patrons will be able to "Grab & Go" seeds they sign out, inside during regular Library hours. (They will also be limited to 5 packets.)
The concept behind exchange is that plants can ultimately be harvested for seeds to donate back to the Library's catalog for next year:
After the growing season, we ask that patrons collect seeds and donate them back to us for distribution the following growing season. Please include name of seed, color (if applicable), and other pertinent information. Vegetable, flower, and herb seeds will be gratefully accepted.
For more detail on the program, click here.