As I've previously shared, there will be two proms for students of Algonquin Regional High School this spring. In addition to the Junior prom, seniors will be holding their postponed gala. That means, the APTO* is seeking to support two Post Prom Parties.
Past events have been big budget affairs offered to students for free. So the APTO has a lot of fundraising to do.
A week from today, a fundraiser is being held at The Neighborhood Tavern in Northborough. The public is invited to "Sip, Dine, & Shop".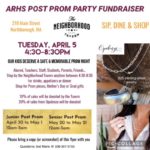 The event is from 4:30 – 8:30 pm at 318 Main Street in Northborough. You can support the cause by shopping for jewelry. The flyer promotes pieces appropriate for prom, Mother's Day and Father's Day.
Attendees are also encouraged to ordering drinks, appetizers, or dinner. (Click here for the menu.)
Participants are asked to bring a copy or screenshot of the flyer with them to ensure that 10% of their Tavern bill and/or 20% of their jewelry sales are contributed to the cause.
If you have any questions, text Marie at 508-397-3155.
For those of you unfamiliar, the Post Prom Parties are a way for the community to keep students safe that night. To attract prom-goers, they have typically been overnight extravaganzas jam packed with "can't miss" entertainment. (For context, you can read about the details of the 2019 post-prom party here.)
Reminder, you can donate directly to the APTO's fundraising accounts for the PPPs. Learn more about that here.
*APTO is the Algonquin Parent Teacher Organization.