Sew Studio in Southborough is holding a special open house this Friday. The afternoon and evening event is a fundraiser aimed at providing aid for the humanitarian crisis in Ukraine.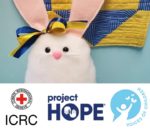 On April 1st between 4:00 – 7:30 pm, the community is invited to stop in to sew "a cute little bunny with ribbons to show support for Ukraine". The project is estimated to take about an hour. (As always, there will be an instructor to guide sewers.)
The $20 fee will be donated to a charity that is providing aid to Ukraine. The website invites you to select one of the following (or one of your choosing):
When you register, be sure to enter UKRAINE in the coupon code field.
Sew Studio is located at 205 Turnpike Road. To sign up for the fundraiser, click here.