This morning, the Town posted updated Covid data. There has been a continued uptick in cases. 30 new/probable cases were reported in one week, 52 in two weeks.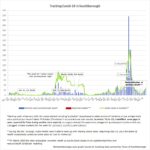 That brings the cumulative total to 1978 cases with 26 labeled active.
One detail, I missed from last month, the Town increased the resident death count to four cases. I followed up with the Public Health Department and learned that wasn't based on a new death.
When the state updated its definition in March (and reclassified over 4,000 deaths as not due to Covid), it also reclassified 400 deaths as due to Covid based on a manual search of Death Certificates.
Below are more of my updated graphs based on the latest data:
Thursday's state report based on overlapping data, indicated 31 cases in two weeks with an Average Daily Incidence Rate per 100,000 of 22.9 (an increase from the prior week). The % of tests confirmed positive was 2.82% (also an increase). * See my tracking of the testing & positivity rates and a regional map of the most recent incidence rate below.
The most recent Northborough-Southborough Public Schools District Dashboard covers through Wednesday, April 6th. In one week, 32 cases were reported, 14 from Southborough K-8 and 9 from ARHS. The count was lower than the previous week.
5 cases were identified through the most recent pooled screening, two through testing symptomatic students/staff. Updated graphs are below.
Daily Counts cover through Friday, April 8th showed 8 additional cases reported, 3 from Southborough and 2 from Algonquin. The attendance rate has remained at 94% or higher for the past several weeks. (The district will only consider reinstating the mask mandate if that drops below 92%.)
As I posted last week, Southborough and Northborough teamed up for more Booster Clinics. There is another coming up on April 22nd. You can find more details here.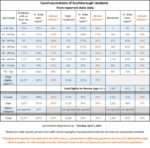 The latest report on how many are taking advantage of vaccines and boosters hasn't changed much recently. As of April 5th about 95% of eligible Southborough residents were "fully vaccinated". About 66% of residents ages 12+ had boosters.**
More highlights by age group and gender are in charts the chart above right and graphs below:




(For more details, plus race/ethnicity rates, click here.)
*The state Public Health reports on positivity rates and cases are issued on Thursday evenings based on results from tests taken during the 14 day period ending the prior Saturday.
**For vaccination stats, I calculated used census data since the state's population data was clearly outdated. Yet even that clearly undercounts our population.