Yesterday, I shared and invitation to the 50th Anniversary Concert of Northborough Area Community Chorus. I forgot that it's also the anniversary for Westborough Community Chorus.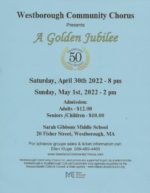 WCC will celebrate its "Golden Jubilee" this spring with concerts on Saturday, April 30th and Sunday, May 1st.
The chorus will be singing selections from shows they have presented over the past 50 years.
The concerts will be held at Gibbons Middle School, 20 Fisher St, Westborough.
Admission is $12 per adult and $10 for seniors and children. The event is a fundraiser for music lesson scholarships that WCC provides to local students. Since the group hasn't been able to hold its big annual fundraisers for the past two years, any additional donations are welcome.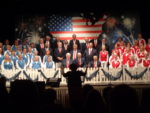 Like NACC, the WCC is a regional chorus that traditional includes several Southborough members. (Clearly, that's why they also received a grant this year from the Southborough Cultural Arts Council.)
Over the years the chorus has grown to 80 members ranging in age from early 20s to 80+ years young, with all levels of singing and musical experience.
You can find more information at westborochorus.com.