The public is invited to St. Mark's celebration of pitch perfect music. It's the school's annual a capella festival.
The festival, established in 1992 through the generosity of the Wick family and friends, is offered annually in memory of Myron A. Wick, St. Mark's class of 1933, in honor of his lifelong enjoyment of singing.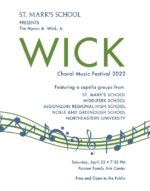 It's usually a two night affair. This year, back after a year off, it's only one evening.
The festival features singers from St. Mark's and other local schools. It's capped off by performances from a university group. This year's participants are:
St. Mark's School's "Marksmen" and "Royal Blues"
Middlesex School
Algonquin Regional
Noble and Greenough School
and Northeastern University
The concert is this Friday, April 23rd at 7:30 pm. It takes place in the Class of 1945 Hall, Putnam Family Arts Center.
Admission is free and open to the public.