Southborough's Fire & Public Health Department are giving out "File of Life" kits. Residents are encouraged to pick up the special refrigerator magnets. Updatable inserts allow emergency services to get a quick medical history when residents are unable to provide one themselves.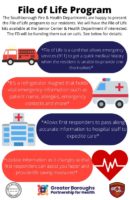 Magnet inserts unfold to reveal info on medical conditions, emergency and physician contacts, allergies, medications, and more.
A website for the kits promotes:
Medical emergencies can happen anytime. When they do, there is confusion, panic and urgency. Paramedics arrive on the scene with no information about the person in need. Seconds count – they can make the difference between life and death. Does the patient have prior medical conditions? Allergies? What medications are they taking? Who do they want us to call? How do we contact their family or friends? File of Life puts these answers at their fingertips. It allows first responders to immediately begin the best possible treatment, notify loved ones, and pass this vital data on to awaiting physicians at the emergency room. File of Life has already saved thousands of lives. It is an absolute asset to emergency preparedness, and peace of mind, for every household and community across the nation.
The kits are made available as part of the Public Health Department's regional partnership with the Greater Boroughs Partnership for Health.
You can pick up a free kit at the Southborough Senior Center or in the Health Department (also at Cordaville Hall). The SFD will also be handing them out when they respond to calls.