Last Night, Annual Town Meeting voters passed 23 Articles. (Two of the Articles were first altered from what was printed in the Warrant.)
That might sound like a more productive meeting than how it felt. 16 of those Articles were passed up front by Consent Agenda. That means that voters really only deliberated on 7 Articles. There still another 12 to get through before Annual Town Meeting is done.
The long debates were over the Board of Health Budget, the School Budget, Capital Expenses and the Northboro Road Culvert, and the Neary School Feasibility Study.
Don't think your voice matters? Amazingly, one vote came down to a 99-100 split. I'll try to get into those details later today.
Last night's votes took care of Articles impacting next year's spending. Based on the results, voters were told to expect about a 4.1% increase in residential tax bills.
The meeting reconvenes at 6:30 pm tonight, Thursday, May 5th. Deliberations should begin sooner than last night. (Opening night includes some honoring of late residents and presentations, that won't be repeated.)
Items still on the Warrant include the likely controversial Easements swap for St. Marks Street, Noise Bylaw, Tree Bylaw, Scenic Roads Bylaw, and Citizen Petition Articles.
First up will be:
22. Appropriation from CPA Funds – Debt Payment for Burnett House
This is the annual appropriation to pay on the debt agreed to years ago for the Preservation Restriction on 84 Main Street. Someone asked to hold this from the Consent Agenda, which indicates a question or objection.
The remaining Articles are ones I provided context on yesterday. I'm repeating that info below:
24. Appropriation from CPA Funds – Restoration of Finn Tennis Courts – up to $61,820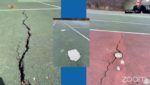 The Recreation Commission has applied for use of Community Preservation Act funds to resurface Tennis Courts at Finn School. One of the courts, which was used as a Skate Park in the past, requires more work than the other. The project also includes painting lines to allow both tennis and Pickle Ball play. CPC minutes show that the committee was told the work should be good for 7-10 years with light play. With heavy use, it would be closer to 5 years. The ask includes a 10% contingency for unseen expenses. (Image above right was shared in Advisory's meeting last week.)
Worth noting, voters approved $62K in 2015 to resurface Tennis Courts. In a recent meeting of the CPC, Recreation's Jen Hansen said she believed that was for just the Neary Courts. It appears that was how it was used. (A follow up announcement after Richardson Courts at Neary were resurfaced didn't reference a Finn project. And a 2018 survey from Rec about what to do with the skate park also indicated that only Neary was scheduled to be resurfaced.) But the Warrant had informed voters it would be for the courts at both Finn and Neary.
25. Easements for Reorientation of St. Mark's Street
This is for Southborough and St. Mark's School to swap easements related to the St. Mark's Street realignment project and adjacent park. It also allows St. Mark's to build an expanded parking lot for their nearby sports fields. The project began as a way to fix drainage issues and make use of state grants to add a park. It blew up into a controversy for the DPW and Select Board over process and issues with the project. Earlier this week, I gave an overview here. You can find more related coverage here.
26. Amend Town Code – Noise
[Editor's Note: Full Disclosure, my husband is on the committee for this proposed bylaw.]
Last year, a Citizen Petition Article sought to create a Noise Bylaw. Although voters didn't approve the Article, there was vocal support for something on the topic. (Without any noise bylaw, the Police Department has said it has no real ability to address noise complaints.) The Select Board appointed a committee to recommend an Article for Town Meeting to pass.
This Article seeks to create some restrictions on hours for certain types of noises. Violations can result in fines. There are those who complain it doesn't restrict enough and those who argue it goes too far. You can find their handout with FAQs here. For past related coverage, click here.
27. Amend Town Code – Trees
I've written a lot about the Planning Board's efforts to protect public shade trees. The Board argues it is simply enshrining a process to ensure the Town adheres to requirements under Mass General Laws. You can read my latest update here and my related coverage here. You can also see the board's Fact Sheet here.
28. Amend Town Code – Scenic Roads
Recently, Town officials discovered that all Town roads adopted by midway into 1978 were designated as Scenic Roads by that year's Town Meeting voters. Now the Planning Board is looking to add the remaining eligible roads in town to that list. (It can't include state owned numbered routes.) Scenic Roads create more protections for old stone walls and increase transparency for removal of any public shade trees on them. You can read my latest update here and my related coverage here.
29. Amend Town Code – Trails Committee
The Trails Committee is seeking to move out of ad hoc status, which is meant to be temporary. Members want to create a standing committee. One item in the proposed bylaw has been objected to by some Town officials. That is the inclusion of non-voting Associate Members.
The idea is to give official designation to active volunteers, encouraging their work for the committee. (That includes organizing volunteers for hands on trail clearing.) But they don't want to cause a quorum issue, since those volunteers aren't always available to join regular meetings. You can read the committee's FAQs on their bylaw here.
31. Amend Town Code – Capital Improvement and Planning Committee
The Capital Planning Committee is looking to move out of ad hoc status. I wrote about their attempt last year here. The newer version eliminates the previously proposed overlap with Advisory.
One issue that may come up – Recently, the Select Board has approved that all road projects should be included in the CPC/CIPC's review and oversight of capital projects. Debbie DeMuria has raised the issue that the Public Works Planning Board was formed to oversee the DPW under Mass state statute. The majority of members have apparently been refusing to meet. (They aren't under Select Board control. Three are appointed by the Moderator and two by the Planning Board.)
32. Citizen Petition – Prevent Use of Public Funds to Improve Private Property without TM Approval
This is clearly a reaction to the St. Mark's Street and Park project that I wrote about yesterday. The Article written by Michael Weishan informs Select Board members that Town Meeting voters are "adamantly opposed to the expenditure of public funds, whether derived from Town, State or Federal sources, to make improvements of any kind to privately owned property without [the Select Board] first presenting the proposed expenditures at Town Meeting and receiving the voters' approval before physical work on the improvements begins." It warns that in the future voters won't grant easements "ex post facto".
I'm not a lawyer, but it doesn't appear to have the force of law. But, if passed, it could impact Select Board decisions by notifying them of voters' future intent. You can read more about the project causing the fuss here.
33. Citizen Petition – Amend Town Code – Accounting of Funding for Roads
Also in reaction to the street and park project, Patricia Burns Fiore states that she is seeking more accountability and transparency for Public Works spending. She was frustrated by the DPW's inability to account for spending on the project. (Superintendent Karen Galligan had justified that the way lumped together road projects were bid for economies of scale meant that she couldn't determine the cost of an individual project.)
Fiore is looking for an annual report to Town Meeting on how DPW Select Board members argued that they put a plan in place to have more up front oversight of future projects. Capital Planning would vet the projects and keep track of status through completion. Fiore agreed that is important, but followed that transparency and accountability after the fact to Town voters on how road funds were spent, and other DPW spending is also important. She is likely to amend the Article on the floor since it refers to calendar year for fiscal reports rather than the fiscal year.
34. Citizen Petition – Amend Town Code – Southborough PILOT Committee
This Article follows up on Fiore's 2019 attempt to have the Select Board reinvigorate the Town's Pilot Committee. Her Article passed, but the Select Board ultimately decided not to appoint members to the Committee. Instead, Select Board member Marty Healey has been handling discussions with school representatives in private discussions. Last week, he was proud to state that the schools were giving more this year than ever in the past. Select Board members opined the process is working.
Fiore noted that Healey is stepping down, and the Committee she is seeking doesn't have to replace a Select Board liaison. Instead the committee could focus on research to provide the Select Board with information and tools to use in their discussions.
She intends to amend the Article on the floor, since it currently calls for an Advisory Committee member to serve on the Committee. Under Town bylaws, Advisory members aren't allowed to serve on any standing committees. Another issue that concerned Advisory was Fiore's attempt to get around the Select Board by vaguely allowing another elected board or official to appoint members to a new standing committee if the Select Board doesn't.
Although this Article doesn't directly relate to the St. Mark's Street and Park project, Fiore referenced it in her discussion with Advisory last week. She said that although Healey got larger contributions, he also gave some money back by having the Town pay $20,000 for items related to curbing and gravel for the portion of the project for the St. Mark's parking lot.
35. Citizen Petition – Amend Town Code – Recall Bylaw
Weishan also wrote this Article. It lays out a process to recall elected officials and hold a follow up election. In 2017, Town Meeting voters rejected an Article with the same stated purpose.
Weishan's Article doesn't state why he is proposing it and he has yet to make a public presentation. But the former Historical Chair accused the Select Board for wrong doing related to the St. Marks Street and Park Project. He has also claimed that their investigation into his 2015-16 invoices (prompting his resignation) and the Conflict Complaint they lodged against him were acts of retaliation for his public opposition.
Earlier this spring Weishan pulled papers to run for the Select Board, but he didn't file them. The 2017 version of the Article was proposed by Sam Stivers who has since been elected to the Select Board and will be re-elected this spring since he is running unopposed.
What are the odds we get through all of these tonight?
Updated (5/5/20 8:14 am): Initially, I accidentally included Article 30 under business to come. That was approved in last night's Consent Agenda. I also added the "Fact Sheet" handout that the Planning Board created for its Tree Bylaw (and a photo of the meeting last night).