This spring both U.S News & World Report and the website Niche released their rankings for public high schools. Algonquin's rankings went up slightly in both. An updated ranking by Niche of K-12 schools also gave high marks to Southborough's elementary and middle school.
I always question the methodologies and reliability of school rankings. But I know the community likes to see where we stand. (Especially when it's good news.) So, I'm sharing an overview of the stats.
In U.S. News rankings, Algonquin improved for the second straight year in state scores.
The school ranked #52 for high schools in Massachusetts (up from #54 in 2021 and #60 in 2020)
While the rankings were up, the "scorecard" grade was lower. (It went from 93.64 to 92.55.) And in national rankings, ARHS fell to #1,329 from 1,136. That seems to indicate that state school scores were down in national rankings.*
ARHS' ranking moved us up higher than Shrewsbury's. But other nearby public schools that the magazine has ranked higher in the past remained that way. (See chart below for current and historical rankings of ARHS vs five our our neighbors.)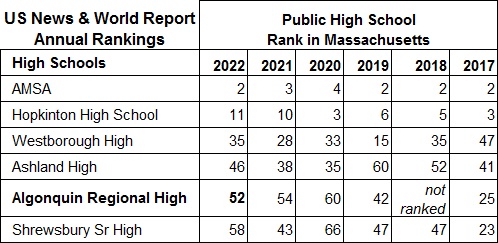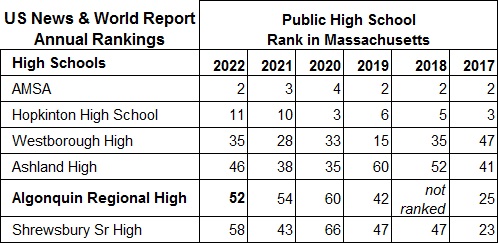 You can find more details on this year's data here. (And you can read my coverage of last year's report here.)
Niche gave the Algonquin another A+ for its overall grade. Most of the rankings were slightly improved from their last ranking issued two years ago.
Niche's rankings for public high schools in Massachusetts, Algonquin was:
#26 school (up from #28 in 2020)
#12 for teachers (up from #15)
#34 for college prep (up from #30)
#81 for STEM (up from #92)
and #45 for athletes (down from #44)
It looks like the state improved in National rankings, since the school's improvements in those rankings were more significant. (For example, ARHS went from #590 in the country to #539, and from the #361 best teachers to #243.)
As with the U.S. News rankings, Niche ranked our regional school lower than some of the area public high schools. Here's the current and historical detail: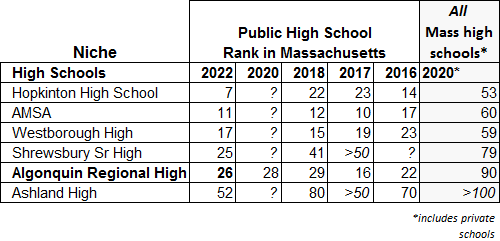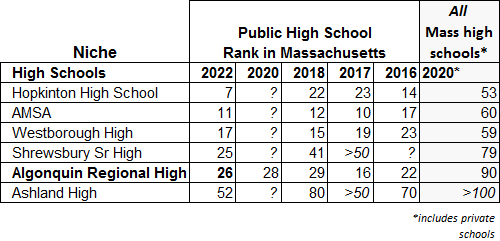 Unlike U.S. News, Niche rankings also incorporate online reviews as part of their methodology. You can find this year's details on Algonquin here.
Because of the regional high school vs other schools with K-12, Southborough public schools didn't get ranked cleanly as a district. (Though we did get #16 District for best teachers in the state, and #8 for best place to teach in Massachusetts.)
The breakup of schools by grades rather than region also complicates rankings. But Southborough's four schools did get good marks:
*Updated (5/12/22 11:55 am): A commenter pointed out my initial error about the National ranking for ARHS schools. I had indicated it was up instead of down.