I've had some reminders lately that a lot of people are stressed out. If you're feeling that way, you may want to check out some of the upcoming events for Mental Health Awareness Month in Southborough. (Click here for a reminder of those.)
But I'm also highlighting an unrelated event on the premise that sometimes laughter is the best medicine.*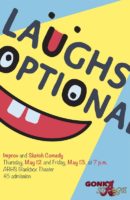 Algonquin students are staging their annual Improv night. Algonquin Needs IMPROVment will perform improv and sketch comedy.
Performances are Thursday, May 12th and Friday, May 13th at 7:00 pm in the school's Black Box small performance theater. Admission is $5 at the door, with no reservations required.
The GonkArts blog promotes:
This year's show, "Laughs Optional" will feature improv and sketch comedy created by 23 ARHS students. We will play many games that are famous and favorites of the improv enthusiast or just plain fun for someone looking for some good PG-13 entertainment. The entire night is created by ARHS students and will be fast-paced, funny, and interactive. . .

This is the final drama performance of the year, help make it a huge success for our students!
*Obviously, that's not true for all people and situations. If you or a family member are feeling overwhelmed by stress, depression or other mental health issues, please reach out to Southborough Youth & Family Services. There is no stigma for seeking support. You can find information on their services and how to contact them here.