The Friends of the Southborough Library are partnering again with the "Fudge Lady" for a fundraiser. We are selling a close to a dozen flavors of handmade fudge.* Flavors include classics, popular specialties, and spring favorites.
The Fudge could make great Father's Day gifts. (Or you could just treat yourself!)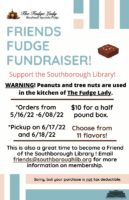 To support the fundraiser, patrons can place orders between now and Wednesday, June 8. Pickup will be available at the Library on Friday, June 17 – Saturday, June 18. (Reminder, Father's Day is June 19th.)
Orders can be placed at the Library's checkout desk or by mail. (You may also see the Friends taking orders at the Rotary Club's Food Truck Festival.) Payment is by cash or check.
Available flavors are:**
Milk Chocolate (plain)
Milk Chocolate with Nuts
Dark Chocolate (plain)
Dark Chocolate with Nuts
Peanut Butter Chocolate
Cookies and Cream
Bailey's with Coffee and Chocolate
S'mores
Strawberry Cookies and Cream
Raspberry Swirl in White Chocolate
Sea Salt Caramel with Dark Chocolate
Half pound boxes are being sold at $10 each and payment is due up front. A significant portion from each box of fudge sold will go to the non-profit supporting Library resources (including museum passes) and public programs.
To open a pdf of the order form, click here. (Order forms are also available at the Library's checkout desks.)
*[Full Disclosure: I'm the President of The Friends of the Southborough Library.]
**[Note: All fudge is prepared in a kitchen with tree nuts and peanuts.]