Southborough Rotary's Food Truck Festival returns a week from tomorrow. The Rotary announced the charity it will use the 2022 series to support – Cash4Campers. They are partnering again with Main Street Bank to incentivize donations.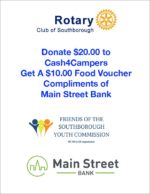 The fundraising drive supports the Friends of Southborough Youth Commission's camp scholarships for Southborough residents:
Main Street Bank is generously providing a $10.00 voucher for each $20.00 donation made to this initiative. Vouchers can be used to make a purchase at any of the offerings from the food trucks. Visit the [FSYC's] table at the festival for more information about this service project and to receive your voucher.
(Scroll down for more details on the camperships.)
Rotary will also use the first night of its festival (Wednesday, May 25th) to honor "Southborough residents recognized as individuals who are significant contributors to the well-being of our community." That presentation will be at 6:00 pm. The public is invited to attend or "stop by later to congratulate honorees to show your appreciation." Rotary has publicly listed the residents. For 2020, they are recognizing Pam McDonald. For 2021, they are recognizing Rick Mattioli and me.
For those not already familiar with the details, the Food Truck Festival is held on the St. Mark's field (corner of Routes 30 & 85) on Wednesday afternoons to evenings.
This spring, it will be 3:30 – 7:00 pm on Wednesdays May 25 – June 15. Each night features four trucks selling a variety of cuisines and a fifth selling scooped ice cream.
The scheduled lineup for the 25th is:
As for the Cash4Campers drive, the program enables Southborough Youth & Family services to help families that need support to send their children to summer camp. Scholarship discounts are provided based on families' size and income. (Learn more here.)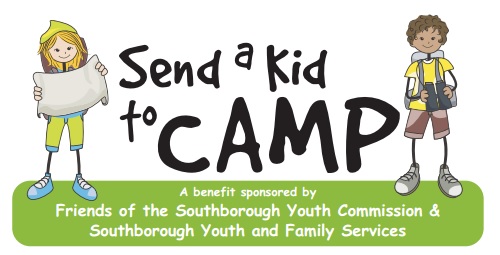 The agency's ability to fund the scholarships is dependent on the ongoing fundraising of FSYC. If you will be unable to attend the festival (or even if you can), you can donate directly to FSYC to support the cause.
Click here to donate to FSYC, or use the donate button on their Facebook page.
Updated (5/25/ 10:01 am): Rotary posted more details on the Celebrating Service ceremony at 6:00 pm.