The Southborough Library is offering help next week for anyone ages 15+ who is looking to create or improve their resume.
The free workshop will be held at the Library, on the upper level, on Wednesday, May 25th from 4:00 – 5:00 pm.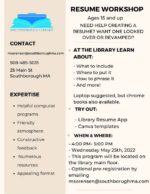 The Library pitches:
Need Help creating a resume? Want one looked over or revamped? At the library learn about what to include, where to put it, how to phrase it and more! . . .

Participants can also try out the library resume builder application and make some cool designs through the canva website.
Participants are encouraged to bring a personal laptop. For those who can't, chromebooks will also be available to use.
Registration isn't required, but is encouraged. You can email msorensen@southboroughma.com.