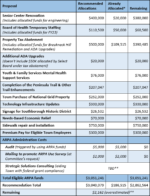 This week, the Select Board heard from the committee charged with recommending how to use $3M in federal American Rescue Plan Act funds. Now, the Board will have to decide whether to adhere to those recommendations and how.
Recommendations included using about 1/6 for the clear top priority for residents who responded to an ARPA survey – reducing property taxes.
Many other allocations were for projects that taxpayers would likely have had to fund eventually, like upgrading the Town's technology infrastructure. Other big spends were for projects that have had high community support but the Town has not been able to invest in, like installing new sidewalks.
One that fits in both categories is adding on a room to the Senior Center.
Other recommendations included "Needs-Based Economic Relief" for residents and bonus pay for 64 Town employees that had to work in-person through the pandemic lockdown.
Over 30 proposals representing $4-5M in projects were received and reviewed by the Committee. They held public forums and issued a survey to the community.
Their recommendations include the top six priorities in survey results. They also include items that didn't score well in that survey but are in the Town's Master Plan or have had notable public support over time.
During the presentation, the ARPA Committee learned that they had underestimated the administrative cost for a consultant being paid from the funds. That means they overestimated the amount available for proposals by up to $45K. This Tuesday, they will vote on adjusting the allocations to cover that.
Still the overall categories aren't expected to change. (The discrepancy only represents 1.5% of the available federal funds.)
Down the road, some projects may need to be scrapped if it seems they would miss federal deadlines for obligating funds (12/31/24) and fully spending them (12/31/26). In that case, the Committee pointed out that money could easily be reallocated to almost any Town budget items.
But Chair Andrea Hamilton made clear that the Comittee's intent was to bring down the budgets and taxpayers' burden. They don't want to see the Town use the extra funds to justify adding expenses to future budgets or the Capital Plan that otherwise wouldn't have made the cut.
Select Board members thanked the Committee for its work. But they didn't commit to fully standing by the recommendations. (The Committee did acknowledge that the Board may choose to make some different choices.)
Member Andrew Dennington said that it would be important to show deference to the recommendations. But he and fellow member Sam Stivers have supported the idea of using a big part of the once in a lifetime opportunity to do something special that the Town wouldn't otherwise be able to do. It didn't appear that the proposed list checked that box for them.
Later in the meeting, Board members were already discussing a couple of ways to use ARPA funds that weren't on the list – though they could be argued as covered by the discretionary property tax abatement funds.
In her presentation, Hamilton stressed that there were more worthy proposals than the Committee could fund.
Some projects were rejected for lack of detail or concern that they were too complicated to complete within the fiscal deadlines. Some were rejected based on concerns about incurring an obligation that would continue to cost the Town money after the ARPA funds were spent. Others just weren't high enough on their priority list to knock selected projects off of the list.
Hamilton described the following six priorities as consistently in the top five survey responses from the over 570 respondents when they sliced and diced results in different ways:
Property Tax Relief
Fund Sidewalk work (repair & install)
Senior Center expansion
Purchase National Grid parcel downtown for future use
SYFS increased mental health support
Bonus pay for town employees who performed essential work during Covid-19 emergencies
(Technically, 674 participated in the survey, but 15% of those left all of the priority choices blank.)
More Project Details
The Committee's presentation included more details on each of the proposals recommended, including the funding justification. You can read that here.
Upon questioning by the Board, Hamilton provided additional details on some projects that weren't captured by the presentation.
Purchasing 1.7 acre National Grid parcel downtown
Hamilton noted that there are a lot of potential uses and benefits for owning the downtown parcel. She listed parking, wastewater treatment, Town led development, or holding as an asset to resell.
Board member Lisa Braccio wondered if they had considered potential testing that might have to be done on the parcel. They hadn't.
Stivers noted he had heard concerns over what might be found under ground. He followed that other Towns that have purchased properties avoided the issue by paving over it for parking or building a playground on a rubberized surface. He believed that even if testing turned something up there could be useful ways to move forward.
ADA Upgrades
Recreation requested funds to address some of the Americans with Disabilities Act compliance issues raised through the Town's recent Self Evaluation report. They would use the $20K to replace picnic tables at playgrounds (at Fayville and Town House), and replace water fountains with water bottle filling stations at fields at Neary, Fayville, and Woodward/Choate.
Needs-Based Economic Relief
For most of the funding, the Committee was responding to proposals. Here they "poked around" to find someone interested in proposing this need. SHOPC responded with a suggested figure. The details on how to implement would need to be determined by the Select Board.
Board members discussed various ways they might tap into the resources the Town already has for determining families in need of support.
The Town has previously provided aid for residents in need of mortgage or tax relief. Vice Chair Chelsea Malinowski noted that the CARES funded program hadn't allowed for helping residents with taxes. Hamilton confirmed that the ARPA funding is more flexible.
Sidewalk Repair and Installation
DPW Superintendent Karen Galligan told the committee that there were $1.2M in sidewalk projects that she believed could be completed within the fiscal timeframe. The committee shrunk that to a list they felt was more achievable. The sidewalks were described as on the following roads: Cordaville, Richards, Woodland, and "St. Mark's North".
It's a project that Dennington highlighted as one the Board would need to decide on quicker than some others.
Premium Pay for Eligible Town Employees
Employees identified work for Southborough Police, Fire, DPW, and Facilities. Braccio asked if they considered those who worked hard from home to get the Town through the difficult time. Hamilton explained they weren't eligible, nor were teachers. The $300K represents $1,000 per part time employee and $5,000 per full time employee.
Not Funded – SHOPC Support
Braccio highlighted one of the projects that the Committee didn't support. She asked about SHOPC's request for $8,500 for a consultant to provide technical assistance. Hamilton explained that they weren't supportive of paying for staffing roles. When Braccio noted it was a one year ask, Hamilton responded that it would have continued funding from this year.
Later, SHOPC Chair Dorianne Jasinski called in to ask the Committee to reconsider. Jasinski explained that the funds were just to help SHOPC with a temporary, but important needs. The volunteer group doesn't have a budget and needs outside help.
SHOPC is charged with completing the Town's 5 year affordable housing plan. They are also worried about the work the work that will be required to comply with pending state regulations on MBTA Communities.
Jasinski said that they were pointed to get funds through the Community Preservation Commission. She followed that the CPC hadn't been cooperative. She said CPC didn't follow through an assurances that they would pay out funds to the Affordable Housing Trust Fund out of money allocated years ago by Town Meeting for Affordable Housing projects.
(Looking back at an April CPC meeting, it appears the Committee was seeking more details on how funds would be used and accounted for.)
Jaskinski said that SHOPC is planning to submit an Article for the Fall Town Meeting.
Potential funding choices by the Select Board
During the SHOPC discussion, newly elected Select Board Chair Kathy Cook pointed out that the ARPA recommendation gives Select Board discretion over $390K (meant for tax abatement).
Rather than asking the ARPA Committee to reconsider its choices, she recommended SHOPC's ask be considered at a future Select Board meeting. Later, under an update on the Northboro Road culvert project, potential use of ARPA funds was raised again.
The project wasn't on the list of ARPA considerations. At the time that the Committee put out its survey and was considering choices, that project was on the list of capital projects the Town was asking Annual Town Meeting to fund through taxes.
Shortly before the meeting, the Town learned that the estimate was much higher than anticipated. They attempted to pull the ask on the floor.
Voters surprised officials by pushing for a way to fully fund fixing the closed road.* Although they failed to find a way that passed muster with the Moderator, they did approve the initially proposed commitment of $38,5000.
Cook noted that the Advisory Committee (which she had chaired) wasn't aware of apparent popularity of the road as a cut through. They had been told the closure only impacted one home and those residents had an alternate path.
Dennington pointed to the Town Meeting sentiment and advocated using the ARPA funds to close the needed funding gap. Malinowski responded that she wasn't there yet. She pointed out that the project hadn't fully been vetted in contrast to other capital needs.
Initially, the project was supported because the estimate had close to 2/3 of the project cost being covered by other ARPA funds. (The state earmarked $70K in funds allocated to the state.)
The Board agreed to have the Capital Planning Committee discuss the project and make a recommendation in time for the Board's next meeting on May 31st.
*Coincidentally, ARPA Committee Chair (as a resident) advocated for the Northboro Road fix at Town Meeting. She made no mention of the potential to tap into ARPA funds that night and didn't raise Northboro Road in discussions this past Tuesday.