Last week, NSPAC honored educators and community members who went the distance for special needs students. Now the Northborough/Southborough Special Education Parent Advisory Council is sharing highlights from last week's ceremony.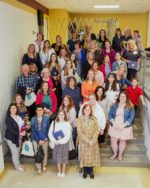 The annual Go the Distance Awards are based on nominations from families of students with IEPs/504 plans (or the students themselves). Each year, they are invited to:
recognize one individual who has made a positive impact in your child's life during this current 2021 – 2022 academic year. This person can be a bus driver, teacher, cafeteria worker, paraprofessional, support staff member, another student, or community employee (such as a coach, dance teacher, or librarian). It should be an individual who has made a significant contribution in enhancing the life of your child.
The photo right is of winners who were able to attend the May 19th awards night.
Below is the list of this year's winners from Southborough schools and Algonquin:
Finn School
Debora Ferreira-Begnami, ELD
Katharine Buress, Instructional Aide
Andrea Flanagan, Physical Therapy Assistant
Alexis LeBlanc, Special Education Teacher
Woodward School
Jennie Bogaert, Behavioral Specialist
Agnes Cammarata, Instructional Aide
Kristen Clark, Instructional Aide
Allison Garand, 3rd Grade Teacher
Lisa Goulet, Special Education Teacher
Lisa Guccione, 2nd Grade Teacher
Nicole Kelleher, 3rd Grade Teacher
Jocelyn Kelly, 2nd Grade Teacher
Neary School
Jill Baker, Instructional Aide
Nicole Boloz, Special Education Teacher
Jennifer Matthews, School Psychologist
Trottier Middle School
Alicia Day, CASTLE Teacher
Allison Hasse, Special Education Teacher
Veronica Mazzu, Spanish Teacher
Kathleen Morgan, Guidance Counselor
Sarah Ostler, Instructional Aide
Jodi Palmer, Student Support / Tutor
Kelsy Rondeau, School Adjustment Counselor
Lori Scearbo, Math Teacher
Algonquin Regional High School
John Barry, History Teacher
Kate Clark, Assistant Director of Student Support Services
Caroline Flynn, Instructional Support Teacher
Santina Furman, Special Education Teacher
Stefani Giegucz, Instructional Aide
Andrea Hotchkin, Guidance Counselor
Linda Hutchins, Guidance Counselor
Caitlin Hynes, Special Education Teacher
Sherry Nolan-Hess, Special Education Liaison
Lisa Pagan, Speech Therapist
Marie Porteus, Special Education Teacher
They also honored two community members:
Brian Doherty, Coach
Joseph Durant, Southborough Recreation Department
For the full list, which includes teachers/staff from Northborough's five K-8 schools, click here.
For the slide show with more details on each winner, click here. And for links to a video and photo gallery of the night, click here.