Algonquin varsity coaches and cheerleaders are putting on a Cheer camp this summer for 5-14 year olds of any gender.
To be guaranteed a t-shirt, the deadline to sign up is a week from today.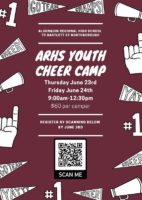 Participants will "Learn new cheers, dances and stunts". Organizers promote that all levels are welcome.
The camp gives kids something to do the last half week of school. The school year ends with an early dismissal on Wednesday, June 22nd. Camp takes place Thursday, June 23 and Friday, June 24th from 9:30 am – 12:30 pm.
Participants will meet in the ARHS gym, 79 Bartlett Street, Northborough.
On the final day, campers will "have a chance to show off what you've learned to family and friends on the last day of camp."
The cost is $60 per camper. For more details and to register, click here.
For a reminder of other camps offered this summer, click here.