A week from Saturday, the Southborough Library is bringing back Kim Larkin of Klassic Kreations, the popular Celtic Chocolate lady. This time, the free event will be held outside.
The community is invited to come out and learn about the history of chocolate in Ireland, Irish chocolate pioneers, Irish lore, famous Irish foods, and Irish poetry.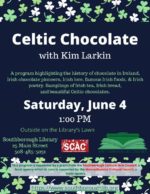 Of course, the best part is the tastings. She'll be offering samples of Irish tea, "Irish break", and beautiful "Celtic chocolates".
The program is made possible with a grant from the Southborough Cultural Arts Council, a local agency which in turn is supported by the Massachusetts Cultural Council, a state agency.
The event is scheduled for Saturday, June 4th at 1:00 pm on the lawn. It is open to all, no registration required.
Below are some photos from past events she held on this and similar topics.