It's not too late to sign up to attend the festivities at Pilgrim Church Saturday night. Organizers are eager for the public to join their congregation in celebrating summer at their Chicken BBQ.
Despite the name there is more to the menu, including a veggie burger alternative and a hot dog option for kids.
The event isn't free, but the fees cover more than just the meal. There will also be games, music, prizes and playground fun.
And since I last posted, they added on a feature. The Southborough Historical Museum will open its doors to visitors.
The Pilgrim Congregational Church tradition dates back to 1961. It was temporarily halted years ago. Now the congregation is excited to bring back one of their "most-loved events". But it's more of a reboot than a return.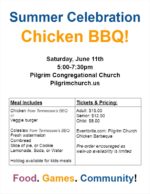 The relaunched party will help build a sense of community by extending the invitation to the public:
Tasty Food… Fun Games… Caring Community!

Pilgrim Church invites you to enjoy a delicious barbecue dinner as you reconnect with old friends, and make new ones.

Lawn games will be out, the playground will be open, and music will be playing! Additionally, each meal ticket will automatically qualify for a chance to win from a selection of raffle prizes.

This event is open to everyone so bring yourself, bring your family, bring your friends!
The invite cautions that "Pre-Orders encouraged as walk-up availability is limited."
The event takes place on Saturday June 11th from 5:00 – 7:30 pm at Pilgrim Congregational Church, 15 Common St. Tickets are $15/adult, $12/senior, and $8/child.
To purchase tickets, click here. To learn more about Pilgrim Congregational Church, click here.