The Southborough Community Fund is asking the community to use Red Apple Awards to thank educators. One change I failed to notice they incorporated last year – families can add a personalized note to the acknowledgement.
SCF is also pitching a simple process for making multiple gifts.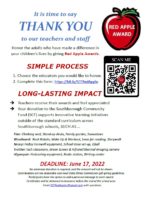 The deadline for gifts is this Friday. Details are below and in the flyer right:
It's time to thank our teachers and staff!

The Southborough Community Fund has launched the Red Apple Awards this spring with the goal of honoring as many teachers as possible for the incredible impact they have had on our children's lives this year. Please join us!

By completing one simple form – https://bit.ly/SCFRedApple – you can honor as many educators as you would like, including personalizing each award with a note from your family if you wish. Your donation will support innovative learning initiatives across Southborough schools.

Details are in the attached flyer. Deadline is June 17. Email SCFRedApples@gmai.com with any questions.
As I've previously posted, the award was formerly given out by the Southborough Education Foundation. In 2020 SCF and SEF announced their pending merger. The reorganized non-profit will continue to give out grants for innovative educational programs in Southborough schools and Algonquin. Since that announcement, they have awarded the following grants:
Understanding Differences/Disability Awareness Books (all schools)
Every Second Counts Bleed Control Kits (4 lower schools)
Small Structures Project-Based Learning (Trottier)
Preschool STEAM program (Finn)
Mermaid Paint Party (Library)
Fine Motor Skills Toolboxes (Finn)
Civil Rights Books (Neary)
Learn to Play the Ukulele (Library)
Create Your Own Brand cricket and heat-press that students use to design and create logo/branded products (ARHS)
Relaxation Station for emotional support (Finn)
Literacy Programming (Finn)
Outdoor Classroom in Courtyard (Finn)