Today is the last day of public school. Some parents who put off making decisions may now be eager to line up some camps/classes to occupy their kids or teens this summer.
There are a couple of specialty options that I realized I never posted about. So, I'm sharing those along with an update on which camps are still available.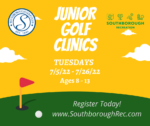 Junior Golf Clinic
Tuesdays, July 5th – 26th at Southborough Golf Club
This summer, for the first time, Southborough Rec is offering a Golf Clinic in town for kids.
Instruction will pertain to all aspects of the game including long game, short game, putting, and chipping for beginners and newer golfers.

Please bring your own clubs if you have them, if you don't there will be some provided.
The $120 clinic is one hour per week for 4 weeks. Times are split by two age groups:
Ages 8-10 years old – 9:00 – 10:00 am
Ages 11-13 years old – 10:15 – 11:15 am.
For details or to register, click here.
The Lego Civics Project
Monday – Thursday, August 15th – 18th, 9:00 am – 12:00 pm, at 21 Highland Street
This $175 program is for kids entering grades 2-6:
Join our community as we build and govern a world-class Lego city, complete with everything needed for incoming residents! Build, budget and furnish your own house. Plan a marketing campaign as you build your own business. Serve on the city council and vote to shape the city's future as you help create a constitution of laws for your citizens. Our Right Brain Curriculum teachers will guide you through – demonstrating how math, economics and community-building are key to a successful, working urban environment. Social studies have never been so much fun!
The registration page has a link to this video promoting the program.
Below are other options still available that I've previously posted about that appear to still have room:
Summer Camps
Sports Camps, Clinics, and Classes*
One-Week Sports Camps:

BEST Soccer Camp (options for 3-14 yr olds)
Ultimate Sports and Games (ages 7-12)

Weekly Sports Classes (Saturdays)

Inclyousion Soccer (7-10 yr olds)
Inclyousion Baseball (options for 3-10 yr olds)
Archery in the Park (Ages 9+, families welcome)

Sports Clinics:
*For those interested in Cheer or Football, it's also worth noting here that Jr. T-Hawks Northborough/Southborough Youth Football and Cheer season starts in early August. Registration is still open.