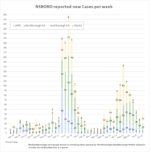 The good news is that this week's report by the CDC, the Community Levels for Covid in our region are still low, as is most of the state. That data is based on hospitalization rates.
The bad news is that a spike the last week of Southborough Public Schools means that some families are starting off their summer in isolation.
Of the 43 cases reported by NSBORO in Daily Counts from June 16th-22nd, 24 were from Southborough schools with half of those from Trottier. Another 7 were from Algonquin. (Click on graph above right.)
The state's figures, reported last night were better, but only covered results of tests taken through Saturday, June 18th.
That data shows a downtick for the 4th straight week in both the testing positivity rate (now 7.4%) and the Ave Daily incidence rate over 2 weeks (now 30.3 per 100K people). (State figures just serve as a way to gauge trends, since they only include official PCR tests.) Click to enlarge images below including the Town's report and a regional map: