Southborough's playgrounds and recreational areas aren't only for kids. The outdoor courts offer free outdoor recreation that's also good for teens and adults.
This year, Rec isn't organizing any drop-in sports programs. But the courts are open to all residents (not classes) when not in use by a Town/school program.
That means you're welcome to round up a some friends and head to Neary's campus (53 Parkerville Road) for a pickup game of volleyball during daylight hours. (Though, I don't recommend doing it during a summer concert night – when the sand pit is usually overrun with rambunctious tots!)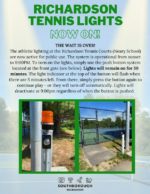 Or use the Richardson Tennis Courts there to play tennis or pickleball. (Obviously, you'll also need rackets for those games.) You can light up that court until 9:00 pm at night. (See image right for those details.)
You can also head to Finn School to use their tennis court – but only one is in good enough condition for use at this time – which could mean a longer wait.*
If that's not your game, you can play basketball with friends. For daytime play any day of the week, you can make use of the courts at Fayville Playground (on Central Street).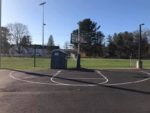 This spring, a light switch was installed for playing hoops at night in front of Woodward School (28 Cordaville Road). You can play up to 10:00 pm at that facility. I'm told the switch works the same as the Richardson Court lights (see flyer above right).
But, you can't make use of the Woodward courts during Summer Camp hours (8:00 am to 4:00 pm on weekdays through August 12th) or school hours (which resume August 31st).
Neary's outdoor hoops are also in an area closed off to the public during Camp hours. That's the camp for extended day which is closed on Fridays this summer. So it just restricts Mon – Thurs 7:30 am – 6:00 pm through August 18th. (Or, again, during school hours which resume August 31st).
If you're just looking to shoot hoops and don't need an actual court, you can find a couple at Finn School (60 Richards Road) where there is no camp this summer. Plus, the Arts Center (21 Highland Street) has a hoop. For that one, you may want to wait until after the parking lot clears out at the end of the day to make the safest use of it.
*Town Meeting approved funding repairs to the other Finn tennis court. Hopefully, we'll get news later this summer on that project.