The Southborough Library's events for adults this summer include ones they are promoting under the theme "Healthy Bodies, Healthy Minds".
All of these programs are free. Here are the highlights.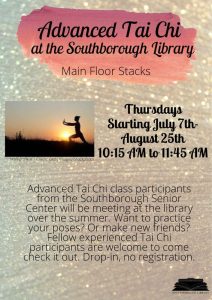 Advanced Tai Chi
Thursdays, 10:15 – 11:45 am, main floor
Participants from the Southborough Senior Center's class, led by instructor Jeanne Friswell, will be meeting weekly at the library over the summer. You don't need to be a senior or former member of the class to participate. But they are looking for participants already experienced at Tai Chi.
"Want to practice your poses? Or make new friends?" Classes are drop-in, with no registration required.
Continuing Wellness Series
The series of monthly virtual sessions led by Jill Vroman of Vroman Fitness will continue this summer. Pre-registration is required.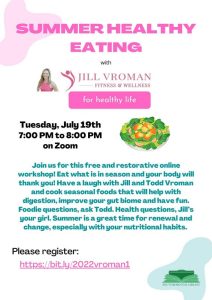 Summer Healthy Eating
Tuesday, July 19, 7:00 – 8:00 pm, zoom
"Join us for this free and restorative online workshop! Eat what is in season and your body will thank you! Have a laugh with Jill and Todd Vroman and cook seasonal foods that will help with digestion, improve your gut biome and have fun. Foodie questions, ask Todd. Health questions, Jill's your girl. Summer is a great time for renewal and change, especially with your nutritional habits." (Click here to register)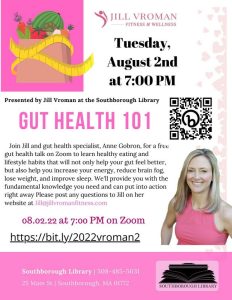 Gut Health 101
Tuesday, August 2, 7:00 – 8:00 pm, zoom
"Has your gut got you down? Is your belly bummin' you out? We hear ya! Join Jill Vroman and gut health specialist, Anne Gobron, for a free gut health talk to learn healthy eating and lifestyle habits that will not only help your gut feel better, but also help you increase your energy, reduce brain fog, lose weight, and improve sleep. We'll provide you with the fundamental knowledge you need and can put into action right away." (Click here to register)
There will also be sessions in the fall focusing on Autumn Healthy Eating and Restorative Sleep.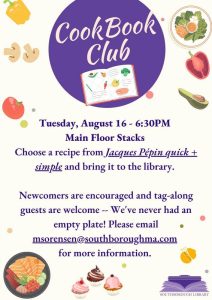 Cook Book Club
Tuesday, August 16, 6:30 – 8:30 pm
The selection for the August meeting of the club includes recipes for health choices.
Each month, participants are encouraged to pick a recipe to make from a selected cookbook then bring their resulting dish to share at a gathering at the Library.
The selection for the August meeting of the club is Jacques Pépin quick + simple featuring " 250 recipes for surprisingly achievable, impressive fare" by the famous chef (winner of sixteen James Beard Awards and a Daytime Emmy Lifetime Achievement Award).
New participants encouraged and all ages and partners welcome. Please email your recipe selection in advance to msorensen@southboroughma.com.