A few weeks ago, I shared news about Art on the Trails' call for poems. Now I'm sharing a reminder that the deadline to submit poems is August 4th.
Organizers are asking the public to submit poems about (or inspired by) installations in this summer's exhibit at Beals Preserve. The top 25 submissions will be forwarded to poetry judge Wendy Drexler. She will make the final selection for this year's chapbook. (You can read more about her and post your submissions here.)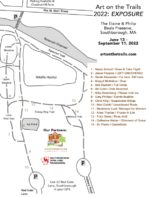 If you haven't visited the exhibit yet, you can find the trail map right and more details about whose art is on display in my prior post here.
If you're unable to visit the trails, organizers still welcome you to find inspiration for your inner poet. You can check out the gallery of photos and a link to videos here.