The Friends of the Southborough Library will be holding our annual Heritage Day Book Sale on October 10th. In preparation, the Library is collecting book donations.
Donations should not be dropped in the outdoor return bins. Below are more details on what and how to contribute: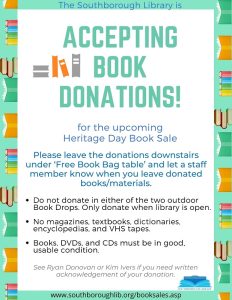 We are accepting Books, DVDs, and CDs that are in good, usable condition. (We are not accepting magazines, textbooks, dictionaries, encyclopedias, or VHS tapes.)
Donations are only accepted inside during the Library's open hours.*
Donations should be left inside near the downstairs entrance, under the 'Free Book Bag table.
Please let a staff member know when you drop items off.
If you need a written acknowledgement of your donation, please see Ryan Donovan or Kim Ivers.
If you would like to help out at the Library's Heritage Day Book Sale, you can sign up for a shift by emailing djmtremblay@verizon.net.
If you would like to support the Library by shopping the sale – mark you calendar! The sale is Monday, October 10th from 10:00 am – 3:00 pm. As always, each child is entitled to one free book.
*The Library is open on Monday, Friday, and Saturday from 10:00 am – 5:00 pm, and Tuesday, Wednesday, and Thursday from 10:00 am – 9:00 pm.
Updated (9/29/22 6:11 pm): The Book Sale will open at 10:00 am.