This Sunday, a special "Dog Walk" will take place in Southborough. The Shannon's Path Inaugural Dog Walk will raise money for research and care related to rare cancers. The fundraiser is held in the memory of late resident Shannon McDonald.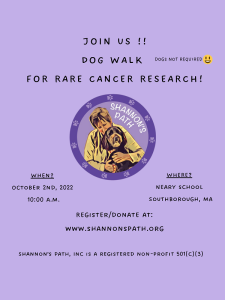 The 3⅓ miles long walk is scheduled for October 2nd at 10:00 am. Although participants are encouraged to walk their leashed dogs, you don't need to have one to take part. Plus, they're happy to have non-local supporters join them virtually.
On the event registration page, McDonald's family explains why they chose to honor her through a dog walk:
Shannon loved walking our pups Cisco, Colby, Ollie, and Finn through the streets of Southborough. Even while undergoing some of the most grueling cancer treatments, she could always be found enjoying time outside with her dogs, admiring the foliage, wildlife, and friends she ran into along the way. These memories inspired us to launch Shannon's Path with this Dog Walk event. We can't think of a better way to remember Shannon and raise support for our mission.
The funds raised go to a 501(c)3 created in McDonald's memory. The charity website promotes:
Walk the Path

Shannon dedicated her life, both professionally and personally, to helping those in need. Professionally, as a social worker, she worked with at-risk children aged birth to three. She carried this same ethos in her personal life where she was the first to extend her heart and hand to all. Please help us continue this spirit of paying it forward. . .

Impact

Shannon's Path is committed to its namesake's values by funding rare cancer research and care in a manner consistent with her journey. Each year, Shannon's Path will provide support to those organizations that advance and improve the treatment for appendiceal cancer, as well as holistic care approaches working towards a more healthy mind, body and spirit.
The course will begin and end at Neary School campus, 53 Parkerville Road. To register and learn more about the event, click here.
To learn more about the cause, click here.