The public is invited to a free seminar next week with advice for those considering buying or selling a home.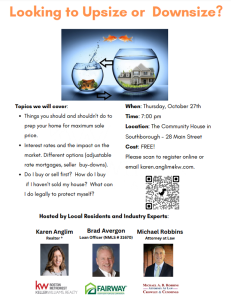 The event takes place on Thursday, October 27th, 7:00 pm at the Community House, 28 Main Street.
Organizer Karen Anglim promotes it as:
A candid discussion with local residents and industry experts about today's real estate market and options for upsizing and downsizing.
The flyer lists topics to be covered as:
Things you should and shouldn't do to prep your home for maximum sale price.
Interest rates and the impact on the market. Different options (adjustable
rate mortgages, seller buy-downs).
Do I buy or sell first? How do I buy if I haven't sold my house? What can I do legally to protect myself?
To register to attend, click here.