Halloween is tonight. For those of you who are new to Town, Southborough doesn't have official hours. Trick or Treating tends to start after dark, around 5:30 pm.
For the past two weeks, families have been celebrating Halloween at public festivities and parades. For those who missed them, you can enjoy some photo highlights, thanks to social media.
Reminder, as I posted earlier today, the Halloween Mega Display on Parkerville Road returns tonight. You can see preview photos for that here.
Looking back at festivities that already took place in town. . .
On Facebook, the Southborough Fire Dept and Southborough Police Department shared pics from the Southborough Fire Association's Halloween parade and party, followed by Southborough Rec's Trunk or Treat:
Fay School didn't post photos from their party over the weekend. But, they did share highlights from a special parade they hosted earlier in the week for Southborough Kindergroup:
This morning, Algonquin tweeted a photo of their Tiny Titans preschoolers celebrating the holiday: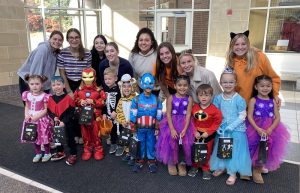 Earlier in the month, Algonquin's Literary & Photography magazine Sachem hosted its annual "Haunted Coffeehouse". Many of the musical acts dressed for the occasion. The Harbinger captured some great photos (here) and a video from the night below:
If Halloween has you in the mood for jack-o-lanterns, you can check out pics from the Pumpkin Stroll earlier this month, here.
Updated (11/1/22 12:52 pm): Claire Reynolds shared the clip below of a moving display that made her do a double take in front of 84 Main Street yesterday: