This weekend, the Messiah Community Chorus will perform its traditional selections from Handel's Messiah.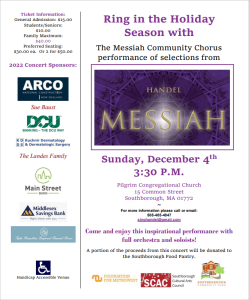 After a 2 year hiatus, organizers are excited to invite the community to ring in the holiday season with the 49th annual concert. The concert takes place this Sunday, December 4th at 3:30 pm.
The community chorus will be accompanied by orchestra and features solos by:
Nicola Santoro – Soprano
Natalja Sticco – Mezzo Soprano
Christopher Eaglin – Tenor
Gregory Flower – Baritone
The performance is held inside Pilgrim Church, 15 Common Street. The tickets can be purchased at the door or in advance from Pilgrim Church. (Call the office during open hours at 508-485-4847.)
Tickets prices are $15 for general admission and $10 per student or senioir. A portion of funds raised will be used to support the Southborough Food Pantry.
This year's concert is made possible through grants from The Southborough Community Fund and Southborough Cultural Arts Council and contributions from the following sponsors:
ARCO Construction
Sue Baust
DCU
Kuchnir Dermatology
The Landes Family
Main Street Bank
Middlesex Savings Bank
Tighe Hamilton Regional Funeral Home