This Saturday, the Southborough Library is inviting the public to join its annual kids party to trim the Christmas Tree. While families are there, they can also shop at the Holiday Book Sale.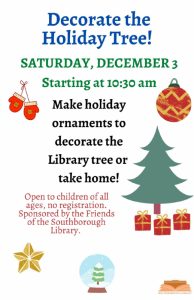 That morning, kids in town are invited to make and hang their own ornaments. The kids' tree trimming party is December 3rd from 10:30 – 2:00 pm.
The fun is sponsored by The Friends of the Southborough Library. Not coincidentally, the Friends will hold its Holiday Book Sale from 10:00 am – 2:00 pm upstairs at the Library that day.
Craft stations will be set up downstairs for children to make a variety of ornaments. (Although, for some kids, the real highlights are the candy canes and refreshments.)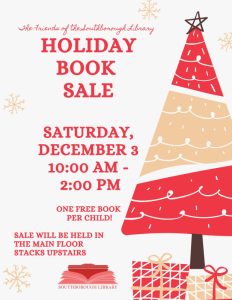 Once they have made their ornaments, kids can head upstairs to hang them on the Library's tree. At the Book Sale, families can pick out one free book per child.
The party is also the perfect launching pad for Santa Day and other area festivities. Families frequently park at the library for the party, then cross the street at noon to watch the helicopter landing on St. Mark's field.
The Book Sale is a fundraiser to support the Friends' efforts to help fund Library programs and resources for the community. Learn more about The Friends of the Southborough Library here.