[Editor's Note: The 12/20 event has been cancelled.]*
The Northborough Southborough Special Education Parent Advisory Council has asked me to promote two upcoming events this month. They are inviting parents to a "Coffee & Connect" and a meeting to elect a new board member.
NSPAC is the volunteer organization of parents of students ages 3-22 with special needs, medical challenges, and learning differences in Northborough-Southborough Public Schools. They describe themselves as "positive and solution oriented". (You can learn more about them here.)
The two events will allow members to reconnect and support each other. Prospective members ca check them out and interested members could vie to step up into a bigger role. Attendees can also learn the latest on Student Support Services for the district.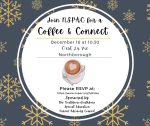 Coffee & Connect
Friday, December 16th, 10:30 am
C'est La Vie Bistro, 30 Main Street, Northborough
NSPAC will host its second Coffee & Connect of the year. This is an informal opportunity to chat with other parents, share experiences, and ask for advice with other families of students with special needs in our school district. All are welcome.
To RSVP, click here.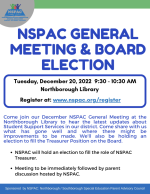 Cancelled* – NSPAC General Meeting & Election
Tuesday, December 20th, 9:30 – 10:30 am
Northborough Free Library, 34 Main St
Parents in the Northborough and Southborough school district are welcome to join, connect with other families, and learn more about the latest updates with Student Support Services.
The website encourages:
Come share with us what has gone well and where improvements are needed.
During the meeting, NSPAC will hold a special election to fill the board role of NSPAC Treasurer. After the meeting, parents can participate in an informal open discussion.
To RSVP, click here.
*Updated (12/17/22 10:22 am): I learned that NSPAC cancelled the 12/20 meeting.