On Tuesday, December 20th*, Algonquin will hold its annual holiday music festival. The public is invited to attend the big concert featuring school instrumental and vocal groups.
Holiday music performed by all of Algonquin's Choral groups, Orchestra, and Jazz Ensemble I. The fun starts at 6:30 pm.
Every year, the evening starts in the ARHS Rotunda with performances by their a cappella groups and small chamber groups in the lobby area of the auditorium. There student art will be on display and light refreshments available.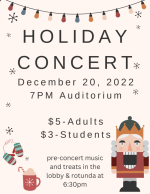 The main concert is slated to start at 7:00 pm in the auditorium with the orchestra, choral groups, and Jazz Ensemble I.
Towards the end of the concert, all alum are encouraged to join the orchestra and chorus on the stage for their traditional performance of "White Christmas".
Tickets are $5 per adult and $3 per student/senior citizen. (Although, members of Northborough Southborough Music Association can attend for free. If you would like to learn about becoming a NSMA member, click here.)
Even if you're an NSMA member, you may want to bring your wallet. You can expect to see students raising funds that night by selling "spiritwear" as holiday gifts.
*(Note: December 21st is the designated backup date in the case of snow.)