The Southborough Community Fund is again pitching Red Apples as a way of thanking teachers and school staff.
Red Apples are donations made to SCF in the name of a teacher or school staff member. The program is a major fundraiser for grants to Southborough educators.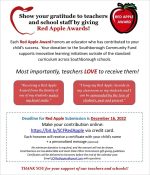 The deadline for submissions in time for honored individuals to receive certificates over the holidays* is this Friday, December 16th. Contributions are tax-deductible and meet the teacher gift-giving provisions of the State Ethics Commission.
By participating in the Red Apples program, families can honor educators while supporting SCF's future grants for "innovative learning initiatives outside of the standard curriculum across Southborough schools".
It's a win/win.
Online contributions can be made (here) in the name of more than one staff member. Each named honoree will receive a certificate with your child's name and an optional personalized message.
If you have any questions, please email SCFRedApples@gmail.com.
*According to the flyer, honorees will receive a certificate before the end of the calendar year.