The public is invited to St. Mark's celebration of pitch perfect music. The school's annual a cappella festival features students from five high schools and two colleges.
The festival, established in 1992 through the generosity of the Wick family and friends, is offered annually in memory of Myron A. Wick, St. Mark's class of 1933, in honor of his lifelong enjoyment of singing.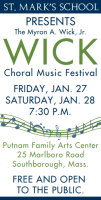 This winter, it's back to its traditional format as a two night event.*
The festival features singers from St. Mark's a cappella groups and from other local schools. Each evening is capped off by performances from a university group. This year's lineup is:
Friday, January 27

St. Mark's School
Middlesex School
Algonquin Regional
Bowdoin College

Saturday, January 28

St. Mark's School
Roxbury Latin School
The Wheeler School
Trinity College
The concerts begin at 7:30 pm in the Putnam Family Arts Center, 25 Marlboro Road. (Click here for the campus map.) Admission is free and open to the public.
*After a break in 2021, the 2022 event was just one night in the spring.