Southborough Rotary Club and a member's salon are working together again to support families in need.
This time, the community is encouraged to donate diapers in sizes 4-6.
The donations are being collected through March 15th.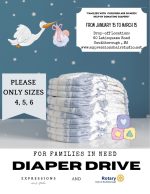 On Facebook, Rotary explained the reason for their latest drive:
About 36% of Massachusetts families with young children could not afford enough diapers for them throughout the pandemic. That need continues to this day!*

Please consider collecting and donating diapers sizes 4, 5, and 6 because toddlers should have them before potty training season starts.
The flyer provides the same two donation locations as were used for Rotary's winter coat collection drive.
In Southborough, you can drop them off at 60 Latisquama Road. (The other location is a salon owned by a member of Rotary — Expressions Hair Studio in Reading.)
The diapers will be provided to "families at Finex House, Emmaus House, and Everett Grace Food Pantry as well as other organizations in our local communities that need them!"
*Rotary cited a March 2022 article in Health Equity as the source for their stat.