Since one of the other hats I wear is President of The Friends of the Southborough Library, I'm excited to share our latest news.
We have finally launched an option to donate to the Friends through PayPal:
The Friends of the Southborough Library are excited to announce a new way to support the Library we all love!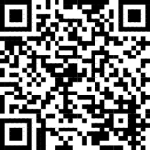 In honor of National Library Lovers Month, we have made donating to the Friends easier than ever. Just use the QR code right or this link to be redirected to our new online donation page.
You're a few clicks away from helping your Southborough neighbors discover a love of literature, a passion for community enrichment programs, and a soft spot for visiting our region's arts and cultural institutions.
The Friends are honored to help underwrite activities for youth through adults and we can't do it without you! So this February, please join us.
Be a Friend. Love your Library. Donate today!
The Southborough Library has a small operating budget for programs and is supplemented by various grants, but additional fundraising makes a big difference.
The Friends of the Southborough Library work to assist the Library to meet the changing needs of the community. Our fundraising helps pay for resources like discount museum passes and programs that encourage literacy and education for children through adults.
For those who would like to get involved in our planning and fundraising work, please reach out about becoming an active member. You can email friendsofsouthboroughlib@gmail.com.