Southborough Youth & Family Services asked me to help spread the word about an important survey they are asking parents of middle school and high school students to complete. The survey is by Encompass, the Substance Use Prevention Coalition for Southborough and Northborough.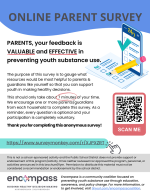 The survey, which should "only take about 7 minutes" to complete is part of the data the coalition needs to help them best serve the community:
The purpose of this survey is to collect information from parents that complements the student data collected in the biannual MetroWest Adolescent Health Survey (administered to students in grades 6-12). Encompass will use this data to determine priorities, raise awareness, and support local programs and policies to address substance use. A goal of the coalition is to aid parents & caregivers like yourself so that you are able to support youth in healthy and informed decisions.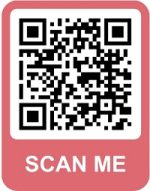 You can find the survey here (or using the QR code).
Encompass is a community coalition focused on preventing youth substance use through education, awareness, and policy change. It is led by staff from the both towns' Youth and Family Services and Health Departments. Membership is open to any residents who supports their mission or anyone who works for an organization or agency serving Northborough and Southborough. For more information, or to get involved, visit their website or Facebook page.