Registration is open for Jr. T-Hawks Northborough/Southborough Youth Football and Cheer.
Practices for the new season will kick off the last day of July. But to qualify for the early bird discount, you need to sign kids up by May 15th.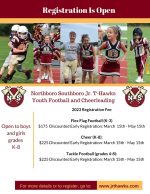 This year, the Jr. T-Hawks Tackle Football is open only to grades 4-8.
They also offer "Flex Flag Football". This alternative to full contact for grades K-3 allows light contact (non-shoulder blocking, no tackling).
The football programs are open to girls, and some do participate. More sign up to be Jr. T-Hawk's Cheerleaders, open to K-8.
To learn more about the program or register, click here.