Another Southborough resident has published a book. He describes it as a "horror" book. But descriptions indicate it crosses over genres — tapping into mythology, with a large dose of humor and romance.
Mitchell Sanders is inviting the community to a book signing this Sunday at a brewery taproom.
The signing is for "Climate of Monsters: Friulian Son", which he describes as:
the first in a series of books about two extraordinary heroes whose lives intertwine to fight monsters in plain sight. The book is chock-full of history, horror, humor, hanky-panky, hypotheses, and high stakes.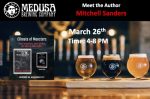 The book signing will take place March 26th, 4:00 – 8:00 pm at Medusa Brewing (111 Main St, Hudson).
The book is also available for sale through Amazon.
Sanders is close to publishing a second installment in the series. "Breath of Fire" is due out July 4th on Amazon.
Publishing two books in a year doesn't mean that Sanders is a full time author. According to his bio, he "is currently the chief scientific officer (CSO) of an international health-care tech enabled services firm.":
Mitchell Sanders is just another ordinary individual. As a scientist and serial entrepreneur, in his spare time he enjoys reading and writing horror books. His inspirations come from his lovely wife and best friend, Elisabeth, and three children and three grandchildren, who encouraged him to write and finish his first book.
You can read more about him (including his PhD in biomedical sciences), the book, and the series here.