I previously posted a save-the-date for Algonquin's National Honor Society's Egg Hunt on April 1st. Based on the lousy weather forecast for Saturday, the students have decided to postpone to their rain date.
The event for kids in the Northborough and Southborough community will take place this Sunday, April 2nd.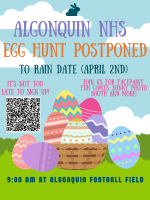 Participants are encouraged to bring a donation for the local food pantry.
Bring your egg basket with you for the hunt, starting at 9:00 am.
Other fun will include:
an obstacle course
games
photo booth with the bunny
an arts & craft station.
Although free, this event encourages registration to help the students organize. Click here to sign up.
The event will be held on Algonquin Regional High School's football field (79 Bartlett Street, Northborough).
It's the second year Algonquin NHS has promoted the festivities. You can check out pics they posted on Instagram of last year's event:
View this post on Instagram
A silver lining for Saturday's forecast is that the event is no longer the same morning as Southborough Kindergroup's egg hunt. (As of my post, Kindergroup hasn't announced postponing their event but their rain date is the following Saturday, April 8th.)