Assabet Valley Mastersingers will be busy this May. On May 13th, the regional singing group that includes Southborough members will perform a "choral tribute" to Latin American music.
The following week, they'll hold their annual fundraising Golf outing with a dinner concert. Registration for that event closes on May 7th.
Below are more details on each event.
2023 Golf Outing & Dinner/Concert – Register by May 7th
Monday, May 22nd at the Cyprian Keyes Golf Club in Boylston
Attendees can register to participate in the Golf Tournament and/or the evening concert. (The dinner in between is included in the registration fee for each event.)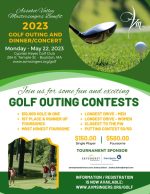 The Scramble format golf tournament will include contests, prizes, a raffle, "Mulligans for AVM", gifts, lunch and dinner. Check in begins at 10:30 am with a putting contest at 11:00 am followed by box lunches. The Shotgun start is at noon.
The evening program begins with appetizers at 5:30 pm followed by a 6:30 pm dinner with awards and raffle winners.
The 8:00 pm concert is of the AVM Chambersingers, a small ensemble selected from the full chorus.
Registration is $150 per golfer or $580 per foursome. Attendance is $50 per person.
For more details and to register, click here.
"A Latin American Celebration": Soloists and Cultural Instruments
Saturday, May 13, 2023, 7:30 pm at Whitcomb Middle School in Marlborough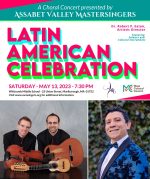 "This choral tribute to the music of our Latin American neighbors will feature Columbian tenor David Rivera Bozon, Andean woodwind specialist and flutist Gonzalo Cortes, and Alturas Duo, who are specialists in South American music, performing guitar, charango and percussion. They will join the Assabet Valley Mastersingers in performing the popular Misa Criolla by Argentinian composer Ariel Ramírez. The program will also include shorter choral arrangements of folk music from Brazil, Argentina, and Venezuela. Composers Carlos Guastavino and Heitor Villa-Lobos will be represented as well as folk songs such as 'Alma Llanera,' and 'Morena Faceira.'"
Updated (4/26/23 7:55 am): I forgot to include the link for more info and tickets for the May 13th concert. (Tickets are $25 general admission, or $20 per student/senior.)