This summer, Assabet Valley Regional Technical High School is again offering its Discovery camp. Two sessions of the one-week camp will be held in July for children entering grades 5-8.
Each day starts with an ice breaking activity during the morning drop-off period, followed by the camper's selected weeklong "Skill Building Activity". After lunch, campers move over to an enrichment activity – either a physical (sports and outdoor activities) or creative (arts & crafts or writing). For the first four days, the camp ends with a camp-wide team building activity. On Friday afternoons, families are invited to join campers for an Open House/Ice Cream Social.
Camps will be held the weeks of July 10-14 and July 17-21. Campers can sign up for one week or both.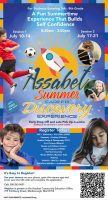 The basic schedule is drop-off from 8:30 – 9:15 am and 3:00 pm dismissal. However, extended hours are available for an additional fee, if scheduled in advance. (Early drop-off begins at 7:30 am and late pickup ends at 4:30 pm.)
The Skill Building choices offered are:
"Beautiful You!" Cosmetology
"Stop! Hammer Time" Carpentry
"Hot Rod University" Auto Technology (wk 2 only)
"Be a Fix-it HERO!" HVAC
"Cooking for Everyone" Culinary
"Create Beautiful Art with Science" Biotechnology
"It's Electric" Electrical Wiring
"Create with Clay & Skateboard Design" Art
"Media Mania/Graphic Design & Photography" Design & Visual Comunications
"Money Matters" Business Technology
"Web Design" Computer Programming & Web Development (wk 1 only)
"Lego Robotics" STEM/Engineering
There is one additional Skill Building option that does not follow the regular schedule. Campers who sign up for the all day "Sports/Fitness and Outdoor Activities", don't switch over to an afternoon enrichment session.
The brochure includes two examples of afternoon enrichment sessions that will be offered — making a T-shirt quilt and a creative writing workshop
For the brochure with descriptions of the skill building and enrichment activities, plus a printable registration form, click here. To register online, click here.