The annual 5K for Southborough based The New England Center for Children is a week from tomorrow. Walk/Run for Autism is on Saturday, May 13th.
Every year, runners and walkers, including many from Southborough, take part to raise awareness and funds for NECC's autism research and education.
Registration is $25 and includes a race T-shirt and timing number. (You can also join/form a team to fundraise.)
As usual, the event includes a free post-race cookout to celebrate. The event includes a vendor expo with exhibitors giving away "swag".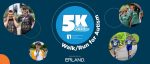 This year, the 5K has a "presenting sponsor", Erland Construction.
NECC promotes:
This professionally timed race is a signature fundraiser supporting NECC's mission to create a global network of educators, researchers, and programs so that those living with autism may live fuller lives. All proceeds benefit NECC's programs and services beyond what tuition covers, including vocational opportunities, student outings, specialized equipment and technology, research, and professional development. . .

Erland Construction has been a longtime supporter of NECC. Its involvement in the construction of the John and Diane Kim Autism Institute inspired the company's employees to create the Erland Charitable Foundation in 2016. "After interacting with NECC's students and seeing the great work being done first-hand, our staff recognized that Erland could do something more to give back to the communities we help build and grow," shared [Bill Mack (director of business development at Erland and Corporate Chair of the event).]
Registration is available online in advance or at the event beginning at 9:00 am. The walk/run begins at 10:00 am, followed by the cookout for participants. There will also be raffles and prizes.
If you're not up to doing the 5K, you can still mark the date to give your support in person and/or donate online.
For those of you who are planning to participate, below are more details.
The event is held at the Neary School campus on Parkerville Road. But no parking will be available on-site. There is a lot that's walking distance away (½ mile), plus two satellite locations with shuttle buses. (Click here for those details.)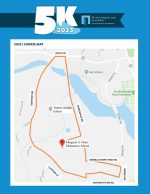 The day's activities are based at Neary School's campus with the course looping around the Parkerville and Deerfoot Road area.
The schedule is:
9:00-10:00 am / On site registration/packet pick-up and vendor expo
10:00 am / Race Start
10:30 am – Post Race Cookout with music, photos and vendor expo, plus "earned incentive prizes from the Gentle Giant truck".
For more of the event details, click here.