This month, graphic novelist Jonathon Todd is returning to town to work with 8-12 year olds. This time, the focus is on using drawing to help them manage their emotions.
The free workshop, "Drawing on Your Superpowers", is part of the Town's Mental Health Awareness Month series.
The promotion explains:
"Having big emotions can be hard to manage but what if these emotions are actually superpowers? Join SYFS and comic book artist, Jonathan Todd to learn the art of reframing challenges and design a superhero that illustrates your own amazing Superpowers."
The session will take place Tuesday, May 16 from 4:00 – 6:00 pm at the Southborough Library.
Registration is required. Click here to sign up.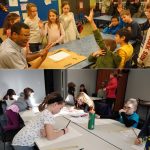 Todd is an author/illustrator whose work is inspired by his own childhood experiences. He has experience working with kids (in Southborough and elsewhere) to help them tap into their own experiences and imagination to create cartoons/graphic novels. To learn about him and his work, check out his blog on tumbler, Cecil's World.
This event is sponsored by the Southborough Community Fund and Southborough Library in support of Southborough Youth and Family Services' Mental Health Awareness Month efforts. (For more information on the MHAM series, click here.)