The Southborough Library is offering free support for 12-18 year olds planning to enter the work force. On Wednesday evening, teens hear from and speak with a professional job coach over zoom.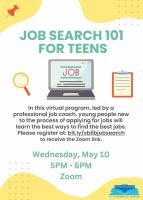 The virtual session will teach young people new to the process about applying for jobs. They'll get advice on how to find the best jobs for them.
The session will take place on May 10th from 5:00 – 6:00 pm.
To sign up, click here. Registrants will receive a follow up email with the zoom link.