In early June, the Northborough/Southborough Public Preschool Program is hosting its 2nd Annual Early Childhood Fair. The event for families with children ages 0-5 will feature activities and family fun.
The school district hopes the event will promote community connections and offer an opportunity for families and community providers to learn about the resources available to families with young children."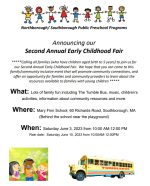 The fun will take place behind Finn School at 60 Richards Road on Saturday, June 3rd from 10:00 am – noon.
Organizers are promoting music, children's activities, "The Tumble Bus" and tables/booths sharing information about community resources.
The event is free and no registration is required. Below are some more pics from last year's event: